Updated on August 4, 2015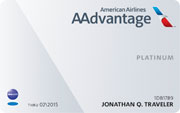 American Airlines is currently offering its customers to upgrade to elite status with 2 promotions
a) This is targeted to specific customers to upgrade to PLATINUM Elite – the details are below.  You must sign up by 8/15/13 (which is tomorrow).  Anyone can sign up but everyone is saying that it will only work if you received the email, so check your SPAM folders if you didnt get it.
b) The second offer is for everyone and gives you the chance to fast track to Elite Status (There will be a separate post for this and there is some extra time to sign up for that.
So sign up for both and see what happens.  Here's what you need to do to sign up for this promotion.
1) go to www.aa.com/offers to sign up before 8/15/2013 (midnight CDT)
2) Enter the promotion code: HVLP3
3) Get Platinum benefits through 11/30/2013 automatically (it takes 10 business days to reflect on your account)
4) Get twenty 500 mile upgrade certificates automatically
5) Extend your new platinum status to 2/28/2015 (yes 2015) by earning 12,000 elite qualifying miles or points between now and 11/30/2013 (you have 3.5 months to get it done).
Here are the details from the email:
Elevating your journey is important to us, so we're offering you AAdvantage
®
 Platinum status through November 30, 2013.
You'll be eligible for elite benefits including:
Special upgrade privileges
100% mileage bonuses on eligible flights
Complimentary access to Main Cabin Extra and
Preferred Seats
Priority Access at check-in and boarding
Two free checked bags
How about Platinum status through February 28, 2015? Simply register first, then start flying on American or select airlines* to earn 12,000 elite-qualifying miles or points between now and November 30, 2013. That's all it takes to extend your newfound perks.
And just for enrolling, we will deposit twenty 500-mile upgrades into your account!
Don't forget to register by midnight (CDT) on August 15, 2013 with promotion code HVLP3 to accept this offer.