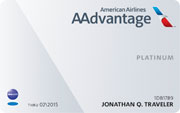 I just posted about American's offer to fast track targeted customers to Platinum Elite status.  Here is the link to the post.
This offer just came out and is supposedly not targeted which means its possible that everyone can sign up.  If you are able to get some travel in and meet the requirements, you could get some fantastic benefits.  Click here to see the elite benefits chart — my favorite would be upgrades but there are many more!
Here's what you need to do to know to sign up for this promotion.
2) Enter the promotion code: H3TLI
3) Fly between September 1, 2013 and December 31, 2013 on eligible airlines (including American Airlines, American Eagle®, American Connection® carrier, British Airways, Finnair, Iberia, Japan Airlines and Qantas flights, as well as eligible codeshare flights.)
* Gold requires 6,000 Elite Qualifying Miles  (this could be 1 international flight)
* Platinum requires 12,000 Elite Qualifying Miles  (this could be 2 international flights)
* Executive Platinum requires 30,000 Elite Qualifying Miles (unless you're flying for work, there's no way to reach this)
4) Get the status you earned 
to 2/28/2015 (yes 2015) 
Thanks to AAdvantageGeek who posted this –
click here
to see that post
I just saw that some people are getting an error message when trying to sign up, so maybe they American Airlines has taken this down already.  Hopefully not.