Updated on May 25, 2015
This is a guest post by a friend:
A few weeks back, a friend pointed me towards a US Airways award redemption gem, USA to North Asia for a mere 90K miles (typical is 120k miles), and convinced me to share miles during the previous US Airways promo (see my post here).  North Asia is defined by US Airways as China, Hong Kong, Japan, Kazakhstan, Kyrgyzstan, Macau, Mongolia, South Korea, Taiwan, Tajikistan, Turkmenistan, and Uzbekistan.  And as hinted by Lucky and Gary, you can "get away" with a destination outside of North Asia and still pay only 90K miles.  With Eva Air joining the Star Alliance this past June and the phenomenal reviews out there, I made sure I flew EVA for the long haul portions of my itinerary.
It worked like a charm.  I booked the following in business class for 2 people, costing 180k US Airway miles total:
9/5/14 JFK-TPE: Eva Air
9/6/14 TPE-BKK: Thai Air
9/15/14 BKK-HKG: Thai Air
9/21/14 HKG-TPE, Eva Air – HELLO KITTY SPEED PUFF!!!!  20hr layover in TPE (Read about the HELLO KITTY plane here and here)
9/22/14 TPE-JFK, Eva Air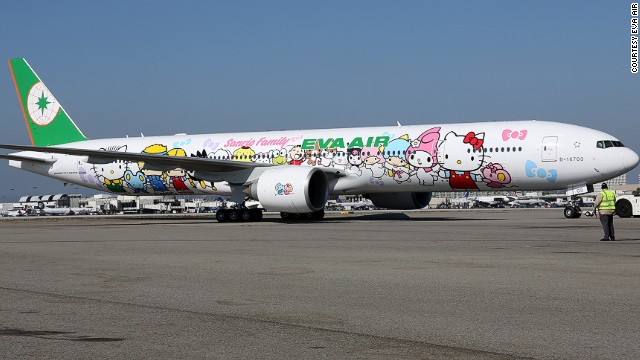 How I booked the reward flight
With US Airways award redemption rules, I am permitted 1 stopover.  Is my stopover Bangkok or is it Hong Kong?  Is my final destination Bangkok or is it Hong Kong?  As hinted by Lucky and Gary, I lead the phone call with the US Airways rep.  "Hi I was in the process of booking an award reservation with a previous rep but was disconnected.  Thankfully, I had written down all the flight numbers if this helps."  Most importantly, I stressed to the rep that "I am planning a trip from JFK to Hong Kong. As I understand it, I am allowed 1 stopover, which I would like to be Bangkok"
The rest was too easy, I fed him my flight numbers, even joked with him that I chose the late night HKG-TPE flight on 9/21 just to be on a Hello Kitty themed flight.  And when he came back with 90k miles, taxes of ~$60 and processing fee of ~$50 per ticket, I took Lucky and Gary's advice and immediately booked instead of putting the reservation on hold.
Important Note:
When putting the reservation on hold, it is possible the next time I call back, a different rep will recognize that BKK is my final destination and charge me 120k per ticket since BKK is in South Asia according to US Airways award chart.  I didn't want to risk it so I booked ASAP.  All in all, the phone call took approximately 30 minutes, but the thought process behind these routes took much longer.
Why Bangkok
Bangkok is my favorite location in Asia.  It is a place where modernization collides with the third world.  Benz's roll next to tut-tuts and given my choice, I plan to ride in tut-tuts with the wind blowing against my face, taking in the fumes from non regulated exhausts.  3hr Thai massages cost $20 USD (last time I went) and one can eat for a day with just $2 USD – street stalls.  Le Meridien Bangkok, my go-to hotel in Bangkok, is an immaculate hotel situated in the red light district and adjacent to food stands and night markets.  It's a place I feel safe and dangerous at the same time.  Why sleep on a normal bed when you can experience a circular bed in a suite?!?  It's completely unnecessary but compliments the non-necessity of a luxury hotel in the red light district.  The flights above suggest a 9 night stay in Bangkok but I plan to stay only 3 nights.  I have never been to Krabi nor Koh Samui and there are direct flights available (Thai Air and Bangkok Air) for less than $150 per person per flight, so it's very affordable.
Hotel reviews
Don't have enough miles?
With my trip 10 months out, and the intra-Thailand flights not yet booked, I have plenty of flexibility if I decide not to visit Krabi or Koh Samui, especially since BKK is a major airport.  If you participated in the US Air promo a few weeks back, and short on miles to booking a similar itinerary, you may want to sign up for the US Airways credit card from Barclays, they are offering up to 40,000 miles if you get the card.  There are other offers out there that I like better, but if it helps you make a booking like this, it may be worth it to you (I explained the details about this card here).  Even if you did not participate and do not have enough US Airways miles, one can never have enough miles.  You never know when US Airways offers another 100% bonus on sharing/purchasing miles – they tend to offer it a few times a year.
If you have any questions or comments, please post them below.