Updated on February 21, 2016
UPDATE:  As of 9/4/13, they are offering 25k points instead of the 30k points.
This is a HOT deal that doesnt come along very often. I've been Starwood Platinum since 2008 and follow their promotions the closest. It was about a year ago that they offered the 30,000 American Express Offer. Since then they have offered 25,000 (not bad) or less. I've been getting low on Starpoints recently and am excited to see this promotion again so that I can refill my account. This is also a great time for anyone else who wants get some free hotels (or really cheap ones). Sign up before the offer expires!
Apply for the card, spend $5,000 within in 6 months and you will have your points! Meanwhile you can start planning where you will use the points.
How to sign up:
a) Click here to see the best current credit card bonuses.
b) If you get a warning saying "You have been identified as a current American Express Cardmember…you are not eligible…", open a different web browser (Internet Explorer, Firefox, Chrome, etc) or clear your cookies and try again. Chances are that you've logged in recently with your other account. I called the 800# and Amex confirmed that if you currently have a Starwood Personal card, you CAN get the Starwood Business card. If you have the Starwood Business card, you CAN get the Starwood Personal card. If you don't have any Starwood card, you can get either one you want. It doesnt matter if you have another Amex (gold/green/platinum/etc), you can still apply and get the bonus.
Then once you get your card, Amex requires you to spend $5,000 in the first 6 months. The annual fee is waived for the first year. You will get 10k points after your first charge and another 20k points after you meet your $5,000 spend requirement.
Why should you be excited about this offer?
1) Starwood points very valuable.
They are worth about 2 to 3 cents each, so an average of 2.5 cents to be conservative. If you want to be aggressive, you can build a lot of Starwood points quickly. Apply for the personal card and get your 30,000 points and also apply for the business card and get another 30,000. I currently have the business card (from last year) so I plan to add the personal card. So a total of 60,000 x $0.025 = $1,500 worth of free hotel stays. I say this is aggressive because you will have to spend $5,000 in the first 6 months for each card. This is likely possible for many people for one card (spending $5k) but for two cards (spending $10k) may be a challenge. If you pay all your bills and use this card for as much as possible, this might get you there. If not, Amazon payments allows you to make payments by credit card without a fee (up to $1,000 per month). So, I recommend going for 1 card unless you think you can manage the requirements for 2.
2) WHAT does 30,000 points get you? How does the 2.5 cents thing really work you ask? What are you really getting?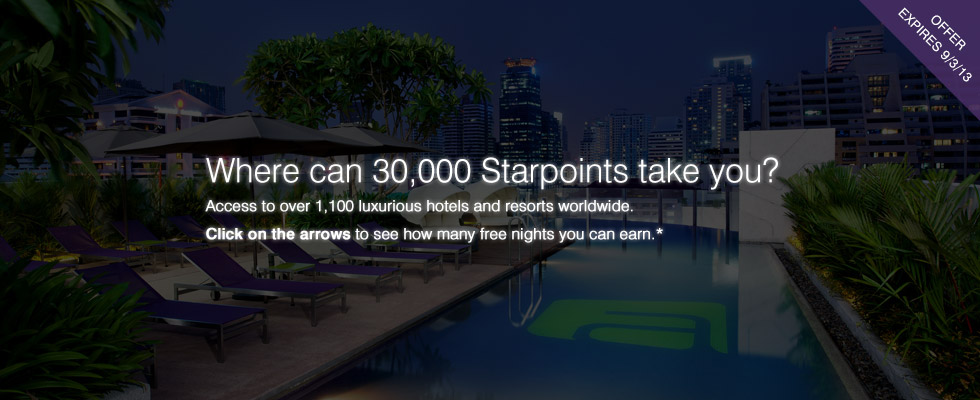 Here are a couple examples from my recent trip to Portland (link to flight deal that I got for $96).
EXAMPLE 1) The Nines Hotel, Portland Oregon. Awesome beautiful and modern hotel! You can pay 5,000 points + $75, versus $219 cash per night (points are worth about 3.5 cents each here when you include tax). I got upgraded to a nice corner room.
EXAMPLE 2) Four Points by Sheraton Portland East: 3,000 points versus $119 cash (about 4.5 cents per point when you include tax). I usually don't care for Four Points hotels but this is a new one and close enough to places I wanted to visit.
EXAMPLE 3) Sheraton Portland Airport: 3,500 points + $55 versus $145 cash. That's about 3.2 cents per point. I got upgraded to a huge suite, but since I arrived late, I didnt get much use out of it.
3) American Express has been my favorite card and I have used many since around 1998.
Many of those reasons are not travel related. For example, my favorite benefit is that Amex will extend a warranty on just about anything you purchase – it will double the warranty up to an additional year. Anything that will break usually breaks after the 1 year manufacturer warranty expires and before two years, and Amex has been wonderful. They are always fast and easy to deal with, unlike many other cards which outsource their customer service. They have many good rewards programs — like this one or membership reward points which I have used many times to get free flights.
4) Upgrades, Upgrades, Upgrades.
Why is Starwood my favorite brand? Simple. Free upgrades. Ok, you might not be a platinum member yet so don't expect the free upgrades until you do hit platinum. SPG has many of the best hotels that I would be excited to stay at and they are often very generous to their Platinum members (I often get suite upgrades). Elite status at Hilton, Marriott, and Priority Club have often meant nothing. Hyatt would be another favorite but that's for another day.
5) 5th night Free (and now 3rd night free)
I rarely use this but it is worthwhile if you do have a chance to use it. If you stay in the same hotel for 4 nights, your 5th night is free. No special promotions are needed, this is a standard benefit for SPG.
6) Cash and points
Cash and points redemptions will get you the best bang for the buck AND they count towards elite status (to help you get your platinum status).
7) Late check out, Free Internet, Free Breakfast, for Platinum members.
Don't underestimate the value of these. Being able to check out at 4pm (often available) is a really nice feature and I refuse to pay $15 per day for internet which is included for platinum members.
8) Points and Airmiles
I don't usually like to transfer my SPG points to Airline miles although they do allow you do it at a favorable exchange rate AND they give you bonuses
We can be here all day talking about this, so I will stop here. Sign up for your cards, get your points, then lets regroup on how best to use them.
[In full disclosure, I do receive compensation if you use the links I have provided. I do appreciate if you use these links, however, If you prefer you can just go to the companies directly without using the links. I'm not interested in nor will promote bad deals.]